"Always be ready to give an explanation to anyone who asks you for a reason for your hope."
First Peter 3:15 (NABRE)

As people of faith, how do we remain hopeful in dark times when events in the world threaten to overwhelm all sense of hope? What are the sources of our hope—the scriptures, teachings, events, stories, virtues, exemplary people—that sustain us and empower us? When we lose contact with the sources and reasons for hope within our faith, we become susceptible to those things in the world that instead fill us with fear and dread of the future. The power of hope—and knowing the sources of our hope—is important for people of all faiths. And each of us can gain insight into our sense of hope by listening to voices from other faiths. This July, the Bigger Bible School event at St. Michael and All Angels will provide an opportunity for interfaith reflection on the meaning, power, and sources of hope in four major religious traditions—Judaism, Islam, Buddhism, and Christianity. Religious leaders from each of these faiths will address the meaning, power, and sources of hope within their faith tradition. We invite you to join us and have your own hope reinvigorated.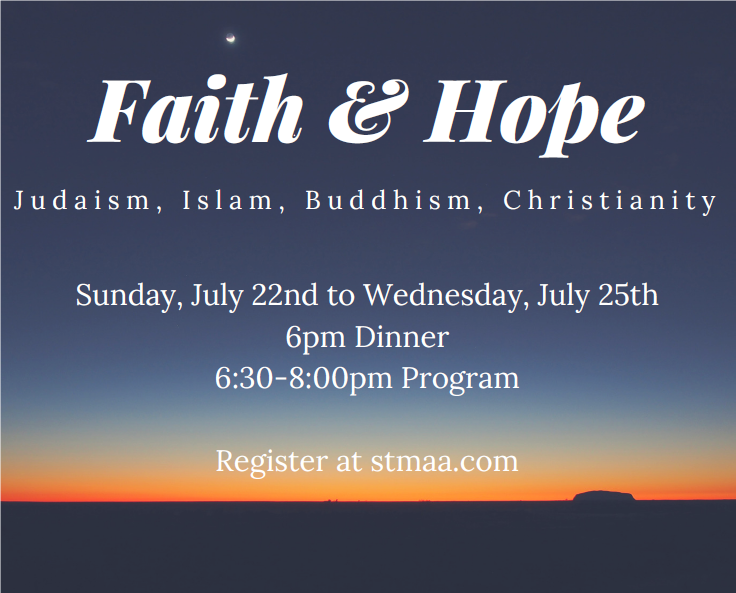 Bigger Bible School for All Ages
REGISTRATION IS OPEN!
Faith and Hope:
Judaism, Islam, Buddhism, Christianity

Sunday, July 22nd–
Wednesday, July 25th
6:00 pm: Dinner; 6:30-8:00 pm: Program

$25/ person, $15/child (age 12 and under), $65/family of 3 or more

Payment Options:
Credit Cards Accepted
Cash and Check Payments Accepted in the Church Office
Checks Must Be Payable to St Michael's
Cash Must Be Exact Change Only


Bigger Bible School for Kids (Ages 12 & under)